Boyd Alumna Laura Bielinski to Speak at Boyd on Trademarks and Domain Names Nov. 14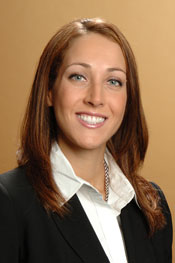 Boyd alumna Laura Bielinski '07, an associate in Browstein Hyatt Farber Schreck's Las Vegas office and a member of the Litigation and Intellectual Property & Technology Groups, will give a talk on trademarks and domain names in Professor Marketa Trimble's International Intellectual Property class at the Boyd School of Law on Monday, Nov. 14.
Bielinski will focus on her experiences with advising clients on protecting their brands internationally. She will discuss her professional path to trademark and domain name practice, helping clients shape strategies for enforcing their trademarks and domain names in the U.S. and internationally, and her experiences in dealing with foreign clients.
Her practice at Browstein Hyatt Farber Schreck focuses on intellectual property law and dispute resolution, including administrative proceedings before the Trademark Trial and Appeal Board, and litigation of trademark and copyright disputes on behalf of international hospitality and gaming companies, such as recovery of infringing domain names under cybersquatting laws. Prior to joining the law firm, Bielinski was a law clerk for The Honorable James C. Mahan of the U.S District Court for the District of Nevada in Las Vegas. She received her J.D. in 2007 from the William S. Boyd School of Law, her M.B.A. in 2007 from the University of Nevada, Las Vegas, and her B.A. in 2003 from the University of California, Santa Barbara.