Mary LaFrance Named IGT Professor of Intellectual Property Law
Mary LaFrance, a faculty member of the UNLV William S. Boyd School of Law, has been named the IGT Professor of Intellectual Property Law. Professor LaFrance is the first recipient of this distinguished honor.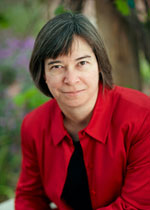 The named professorship is made possible through a gift from International Game Technology (IGT) and reflects the growing relationship between IGT and the law school.
"I am grateful for IGT's generous support of Intellectual Property Law at Boyd," said LaFrance. "I look forward to working with IGT as a partner in our research, teaching, and continuing education programs relating to this exciting and constantly changing area of law."
"Defining the value of intellectual property is paramount in today's business environment, which is why we explored ways to invest in educational initiatives surrounding this important issue," said T. Rao Coca, IGT vice president of Intellectual Property Law. "We are honored to partner with the UNLV Boyd School of Law to establish the IGT Professor of Intellectual Property Law position as a way to provide a deeper understanding of intellectual property and its value to the law and business community. Professor LaFrance's extensive experience in intellectual property law will be invaluable as she develops curricula focusing on the importance of intellectual property in today's business world."
The Boyd School of Law recently joined with IGT to sponsor a day-long seminar on intellectual property assets, licensing and pooling for law professionals and law students on Sept. 23, 2011 at the law school's Thomas & Mack Moot Court. More information about the seminar can be found at law.unlv.edu/IPseminar2011.
Professor LaFrance has been teaching law for 21 years. She joined the Boyd School of Law in 1999 after teaching at the Florida State University College of Law and School of Motion Pictures, Television, and Recording Arts.
Earlier this year, Professor LaFrance was awarded a $5,000 grant from the Intellectual Property and Information Law Sponsored Scholarship Grants Program at the University of Houston Law Center for her article, "From Whether to How: The Challenge of Implementing a Full Public Performance Right in Sound Recordings." The article was published in Harvard Law School's Journal of Sports and Entertainment Law.