Member of Boyd's Charter Class Opens Legal Practice
A member from the William S. Boyd School of Law's charter class has just opened her own law firm.
Brooke Borg '01 opened her firm in March of this year. Its creation is unusual because it comes in the midst of one of the largest economic crises in recent memory.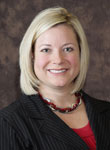 "I had always wanted to open my own firm," Borg said. "I knew I'd get questions with the economy being the way it is, but I realized that if I didn't go for it now I never would."
Borg moved back to Michigan for three years after law school and practiced in a medical malpractice firm. She then returned to Las Vegas and became a partner at Lubbers Law Group before deciding to open her firm. She said that the connections she made while at the law school have helped her to do well early on.
"Las Vegas is a big city, but the legal community is really tight-knit," she said.
So far, Borg said that she has found the move to be very rewarding and is excited to keep building.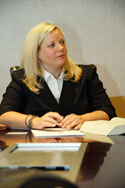 "Operating my own firm is significantly more stressful than simply working at a law firm, but I enjoy practicing law more now because it's my own stress. I'm able to be more hands-on with my client's legal needs and run [the firm] how I want to run it," she said. "At the moment, I'm a one-person operation, but I plan to hire a paralegal by year's end."
One of her challenges has been to convince her clients to keep a legal advisor on their team despite today's challenging economy. Borg said that because of the economic situation, people are not as willing to retain legal counsel and this can lead to big problems later on.
"It's been a little challenging, but I found that simply being yourself is vital in succeeding in business," Borg said.
Although it's been nearly a decade since she graduated, Borg said that the lessons she learned at the law school helped her to succeed and for that she is "very thankful."
To see more about Brooke Borg, click here.