Boyd Students and Alumni Honored at Annual Pro Bono Luncheon
The Boyd School of Law and many of its alumni and students were honored at the Ninth Annual Pro Bono Awards Luncheon hosted by the Legal Aid Center of Southern Nevada (LACSN) on Dec. 11 at The Rio Hotel & Casino.
Among those recognized for their dedication to pro bono legal work was Boyd student Brian Ramsey who received the Public Interest Law Student of Distinction award. This award recognizes a law student who has made a substantial commitment to the community by doing public interest work and promoting access to justice.
The LACSN also recognized the Boyd School of Law which received the Pro Bono Award of Excellence. This award is given to an entity that goes above and beyond in providing pro bono services or assistance to pro bono and access to justice efforts.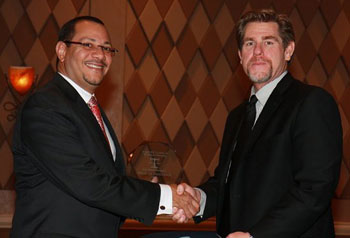 Dean John White accepting the Pro Bono Award of Excellence on behalf of the Boyd School of Law from Justice Parraguirre. Photo courtesy of Beau Sterling
The following Boyd students were recognized for their pro bono efforts:
Elizabeth Bolhouse
Alexis Brown
Rebecca Blood
Berdette Clark
Morgan Flaherty
Megan Goodwin
David Gordon
Elana Graham
Siria Gutierrez
Antonia Hamid
Derrick Harris
Mark Hesiak
Chata Holt
Tenesa Houdek
Janice Jocovino
Natasha Kaul
Mona Kevah
Chan Lengsavath
Mary Madrid
Kerstan Micone
Deanna Molinar
Dominika Morun
Leslie Strasser Murdock
Joanna Myers
Douglas Nutton
Koa Perlac
Karlee Phelps
Ryan Phillips
John Piro
Kelly Przestwor
Felicia Quilan
Brian Ramsey
Jeremy Robbins
John Wickett
The following attorneys were recognized for donating their time providing free legal advice as part of Ask-A-Lawyer, Bankruptcy Facilitator, Nevada Microenterprise Initiative, Homeless Assistance Project, and Senior Legal Institute programs:
Giovanni L. Andrade '07
Brian E. Blackham '05
Chelsie C. Campbell '05
Sean K. Claggett '03
William C. Devine, II '07
Angela H. Dows '06
Christina Evans '03
Rhonda K. Forsberg '05
William M. Kapalka '04
Bryce C. Loveland '06
Danny J. Lovell '05
Maricar Magana '07
David L. Mann '07
Corrine P. Murphy '06
Carolyn Myers '01
Mary D. Perry '01
Mariteresa Rivera-Rogers '03
Louis C. Schneider '05
Nadia von Magdenko '00
Clarke D. Walton '05
The following attorneys donated at least 50 hours of pro bono work in the past year and were inducted into the 50 Hour Club:
Giovanni L. Andrade '07
Nedda Ghandi '08
Jacqueline A. Gilbert '07
Carla Kok '03
m'Ryah Littleton '06
Bryce C. Loveland '06
Maricar Magana '07
Macaire K. Moran '07
Mariteresa Rivera-Rogers '03
Lucas J. Tucker '06
The following attorneys donated at least 100 hours of pro bono work in the past year and were inducted into the 100 Hour Club:
Brian E. Blackham '05
Deanna C. Brinkerhoff '08
Lauren D. Calvert '07
William M. Kapalka '04
Kelly R. Kichline '07
Quinton R. Singleton '07
The following attorneys made it to the 2009 Attorney Honor Roll:
Heidi E. Almase '01
Giovanni L. Andrade '07
Paola M. Armeni '03
Ogonna M. Atamoh '01
Denise S. Balboni '07
Kevin E. Beck '03
Brian E. Blackham '05
Craig G. Bourke '01
Deanna C. Brinkerhoff '08
Shemilly A. Briscoe '06
Sarai L. Brown '08
Adam K. Bult '04
Lauren D. Calvert '07
Radha Chanderraj '03
Jarien L. Cho '03
Daniel C. Coe '05
Charles R. Cordova '07
Patricia J. Coyne '01
Lucien A. Cravens, Jr. '01
William C. Devine, II '07
Courtney L. Dolan '03
Angela H. Dows '06
Brian R. Dziminski '03
Robert N. Eaton '04
Michael J. Gayan '08
Michael T. Gebhart '01
Nedda Ghandi '08
Jacqueline A. Gilbert '07
Paula K. Gregory '07
Arun Gupta '08
Nancy R. Harkess '04
Amy B. Honodel '01
Andrea L. Jundt '07
Kelly R. Kichline '07
Carol A. Kingman '02
Kristina C. Kirigin '04
Carla D. Kok '03
Ramzy P. Ladah '08
Akke Levin '04
m'Ryah A. Littleton '06
Morag A. Logan '05
Marvin L. Longabaugh '01
Miguel A. Lopez '08
David L. Mann '07
Catherine M. Mazzeo '02
Matthew J. McAlonis '08
Rena M. McDonald '03
Martin I. Melendrez '01
Nancy Momcilovic '03
Jorge U. Morales '06
Macaire K. Moran '07
Sandra Douglass Morgan '03
Patrick J. Murch '06
Corrine P. Murphy '06
Mary D. Perry '01
Vivienne Rakowsky '04
Jeremy Robins '09
Miriam E. Rodriguez '03
Dina H. Romaya '07
Patricia A. Ross '05
Jenny L. Routheaux '08
Karl F. Rutledge '06
Sophia M. Salas '07
Quinton R. Singleton '07
Natalie M. Smoot '04
Rosa Solis-Rainey '01
Lucas J. Tucker '06
Christina H. Wang '05
Angela M. White '02
John P. Witucki '07
Ryan J. Works '04