Three Elected to Boyd Alumni Association Board of Directors
Among the ten candidates for three open seats on the Boyd Alumni Association Board of Directors, Sean Claggett, Michael Hyte, and Raymond Jereza won the election. Each brings a distinctive and remarkable perspective to the board.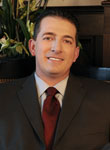 Sean K. Claggett: Sean is the quintessence of a local. A graduate of Durango High School, a 1997 honors graduate of Cerro Coso Community College (Calif.), a 2000 graduate of UNLV with a B.A in political science, and a cum laude alumnus from the Boyd School of Law where he served as staff editor on the Nevada Law Journal and a member of the Moot Court team, where he won first place in intraschool competition, Sean '03 is the founding attorney of Claggett & Associates, employing eight persons and focusing on personal injury, civil litigation, real estate litigation, and criminal defense.
While at CCCC, Claggett was the first baseball player to be named academic athlete of the year. At Boyd he clerked first for Ryan, Marks, Johnson & Todd doing insurance defense and later practiced criminal defense for Michael Cristalli & Associates, where he accepted a position after earning his J.D. before founding his own firm.
Sean said his wife Louella and he "share a core belief that as Las Vegas residents, it is their obligation to make our community a better place by giving back with time and money," a value reflected in their charitable giving to organizations such as the Challenged Athletes Foundation, Three Square, March of Dimes, HELP of Southern Nevada, and Nevada Child Seekers, just to name a few. Additionally, Sean's commitment to our community was recognized when he was placed on the Legal Aid Center of Southern Nevada's 2008 Attorney Honor Role of Volunteers recognized for performing bono hours. They have two children: Reed four and Ella one.
Michael Hyte: Born and reared in Las Vegas, Michael '06 earned a B.A. in Communications from Brigham Young University in 2001 and then returned to Las Vegas where he spent two years working at a public relations and public affairs firm. While in law school, he accepted an externship in the Chambers of Judge Kenneth C. Cory at the Eighth Judicial District Court of the State of Nevada.
After taking his J.D., he began his current position as a Deputy Special Public Defender for Clark County where he is a member of the Family Defense Project. He also is licensed in the District of Columbia.
Michael said he "feels a debt of gratitude toward the law school and is honored to serve as a member of the Board of its Alumni Association Chapter." Since graduation, he has routinely found himself back at Boyd for various events, whether to attend lectures, CLE courses, or to welcome new admitees at Open Houses. He said he "hopes his tenure on the Board will be marked by an ever-increasing role for alumni as an integral component to Boyd's continued success."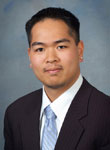 Raymond Jereza: A 2009 graduate, Raymond Jereza said he would "like to facilitate more interaction between the student body and the Alumni Board via increased participation and new events."
While a student, Raymond served as President of the Sports and Entertainment Law Association, as Vice President of the Asian Pacific American Law Students Association, as treasurer of the Minority Law Student Association, and as a clerk for Murchison & Cumming, where he is employed at present.
He also served externships at the UNLV Office of General Counsel and at the U.S. Bankruptcy Court (District of Nevada) for Judge Linda B. Riegle, researching and drafting memoranda on various bankruptcy issues.
In addition to his lawyering skills, Raymond has significant teaching proficiency. He was a teaching assistant for UNLV's PSC411x "Law in Action—the Peacekeeping Function of Civil Law," a student teacher for the Boyd School of Law Community Service project, and is a teacher for the Life Teen program at St. Thomas More Catholic Community."
He earned a B.A. in Economics and Political Science in 2006 from the University of California, Davis.