Alumnus David Schnell-Davis Named Finalist for Scribes Law-Review Award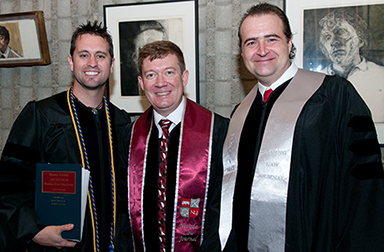 David Schnell-Davis (right) at the 2013 Boyd Convocation
When David Schnell-Davis '13 received word that his article was a finalist for the Scribes Law-Review Award, his reaction was understated, to say the least.
"My initial reaction was 'Scribes Law-Review competition? What's that?' I thought 'Whatever' and went back to work. It wasn't until later that I did some research and realized that it was actually a pretty big deal," he said.
Erica Okerberg, the editor-in-chief on the UNLV Gaming Law Journal, had submitted Schnell-Davis' article for the annual competition coordinated by Scribes, the American Society of Legal Writers.
"I didn't even know it had been submitted. Unbeknownst to me, my editor-in-chief sent it in. The editor-in-chief of each law journal in the U.S. picks what they think is the best student note and sends it in," he said.
Since 1987, Scribes has presented an annual award for the best student-written article in a law review or journal. The Scribes Law-Review Award is presented at the annual meeting of the National Conference of Law Reviews. Schnell-Davis' article was one of 13 finalists for the award. A total of 78 articles were submitted from law journals across the country.
His article, High-Tech Casino Advantage Play: Legislative Approaches to the Threat of Predictive Devices, focuses on electronic devices that can be used to beat casino games by predicting the outcome.
"They're computers that people would wear that would predict the outcome of games," he said. "I have a background in computers, so it was really interesting to me."
In his article, Schnell-Davis covered the history of legislation regulating outcome-predicting devices. In 1985, Nevada legislators passed the nation's first predictive device law.
"They rewrote the law in 2011, and that's what I criticized heavily in my article," Schnell-Davis said. "I interviewed the head of the Gaming Control Board twice; and during the second interview I pointed out a major part in the rewritten version that unintentionally made some of those computers legal again. He said 'Wow, I think you're right.'"
In 2013, thanks to Schnell-Davis' keen eye, the law was revised again to delete the flawed section.
Schnell-Davis worked on the article for about a year.
"It really helped that it was a topic I was really fascinated by. I picked a topic that I enjoyed researching, and I think that was crucial," he said.
Schnell-Davis is no stranger to scholarly competition. As a 1L, he placed third in the Nevada Law Journal annual writing competition.
"I was the only 1L to submit something; and I'm still reasonably proud of that paper, especially considering that I wrote it during my first year of law school," he said. "Students should definitely submit articles for these competitions. They're worth doing."