Boyd Alumna Takes on New Challenges for the Federal District Court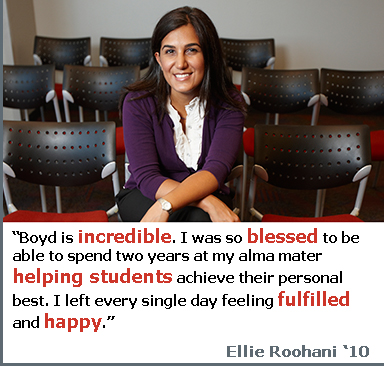 Ellie Roohani '10 spent her first two years following graduation from the William S. Boyd School of Law working for the school itself. She served as the assistant director of the Academic Success Program.
Roohani now works as a judicial law clerk for the U.S. Federal District Court.
"My job requires me to help my judge in any way he needs. Usually, this involves legal research and writing on civil cases and drafting proposed orders for his review," Roohani said. "In criminal cases, I help with the pretrial motions, during the trial, and any post-trial issues that arise. In short, my entire job is legal research and writing."
Besides working for the court, she has plans to write an article for publication regarding how pleading in cases should work across the multiple levels of the court system.
"One thing I have seen a lot of during my clerkship is cases that have been removed from state court to federal court. I have noticed that because state and federal law on pleading is different since the Supreme Court's Iqbal/Twombly decisions, this creates a particularly frustrating situation for litigants," she said. "I am planning on writing an article about the pleading standard and the benefits of having the standards be consistent between state and federal courts."
Roohani said that her life experiences shortly after completing her undergraduate degree helped her decide to enter law school.
"While I was working for two years between undergrad and law school, I was involved in a program that students from all disciplines (science, humanities, etc.) participated in to discuss global issues," she said. "I also traveled to China during this time to teach English to children and adults. Through these two experiences, I found myself drawn to social justice issues and had a deep desire to make systemic changes in the way that justice was administered."
After graduation, she decided to work for Boyd primarily because of its ability to foster a strong legal community in Nevada.
"Boyd is incredible. I was so blessed to be able to spend two years at my alma mater helping students achieve their personal best. I left every single day feeling fulfilled and happy," she said. "I felt like I was working with like-minded individuals training the next generation of legal minds. I connected with Boyd students because I was one of them. Sure, I had graduated earlier, but really I was just helping them on the same journey others helped me on. Pay it forward and all that."
She shares one piece of advice with those interested in law school – learn about the profession before committing to it.
"Talk to as many people as you can. Realize this is not a profession where you can phone it in. You need to love reading and writing because it is what you will do all day every day," she said. "The practice of law is not like the movies; so, sit in on a law school class, attend court with an attorney, and make it a point to learn about this profession."