Two Boyd Alums Named to VEGAS INC 40 Under 40 List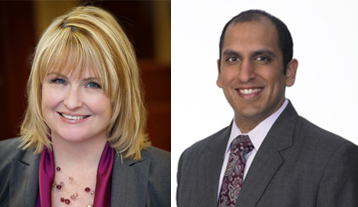 Boyd alumnus Puneet Garg '05 and alumna Susan Pitz '02 were recently named to VEGAS INC's annual 40 Under 40 list, a celebration of accomplished individuals in southern Nevada.
"This group of 40 people has achieved some great feats very early in their careers. Their strength and commitment to making the Las Vegas Valley a better place to live should be commended," wrote special publications editor Rob Langrell in this year's issue.
A panel of judges narrowed down the list of 275 nominees.
Garg, an Associate at Gordon Silver Law, specializes in health care, contractual disputes, business torts, intellectual property, and entertainment law.
"With other local attorneys, he's also worked with the Nevada Supreme Court to formalize and broaden a pro bono program for pending civil appeals, on behalf of those who can't afford attorneys. His pro bono work hasn't stopped there. Through Legal Aid Center of Southern Nevada, he's spent the last year helping approximately seven foster care system kids, taken from parents facing abuse and neglect allegations," Garg's profile in the publication reads.
Pitz is a shareholder and attorney at Nutile Pitz & Associates. Her focus is on transactional, administrative and regulatory issues. In addition to helping individuals establish health care business ventures, Pitz serves as an adjunct professor at Touro University. Before going into law, she spent 10 years in sports information and sports business.
"Setting the bar high was always a standard for Pitz. College graduations for bachelor's and master's degrees generally came a semester or year early. She even passed the bar exam while still attending law school at UNLV. And after practicing law for only five years, she became a partner in her firm," the publication reads.
Over the past three years, Pitz has been involved in both the Susan G. Komen three-day walk and poker event.
"I was very honored to be named alongside such a talented group of people, including my fellow Boyd alum Puneet Garg," said Pitz. "It was very rewarding and humbling to be recognized for my work over the years, especially the charitable efforts and community service which always gives me great personal satisfaction."
For the full 40 Under 40 list, click here and visit page 13.