UNLV Black Law Students Association Earns Two Mock Trial Trophies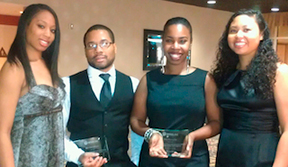 UNLV BLSA team members (left to right) Britannica Collins, Jonathan Lee, Sonya Miller, and Angela Cook
The UNLV Black Law Students Association (BLSA) recently added two trophies to its mantle.
Boyd School of Law part-time students Britannica Collins (3L), Angela Cook (4L), Jonathan Lee (3L), and Sonya Miller (3L) competed in the Western Region qualifying round of the National Black Law Students Association Thurgood Marshall Mock Trial Competition in Los Angeles Jan. 9-12.
Collins, Cook, Lee and Miller took second place overall, while Lee won the Best Oral Advocate award.
During the Thurgood Marshall Mock Trial Competition, one of the nation's largest mock trial competitions drawing hundreds of teams annually, Collins and Lee acted as attorneys for the plaintiff, while Cook and Miller acted as defense attorneys.
Their achievements qualify them for the national competition to be held in Atlanta in March.
Local attorneys Adjunct Professor Franny Forsman (Lead Coach), Richard Boulware, and Robert Langford contributed time and expertise to preparing the team. Langford coached the team on site in the Western Region competition, which includes Alaska, Arizona, California, Hawaii, Nevada, Oregon and Washington. Forsman will coach the team at the national competition in Atlanta. Boyd Professor Rachel Anderson is the UNLV BLSA Advisor.
Last January, Britannica Collins, Sonya Miller, Kiera Sears, and Brittnie Watkins competed at the regional competition in Seattle. The team competed on the national level in March 2012 in Washington, D.C.