Three Boyd Professors Named Bellow Scholars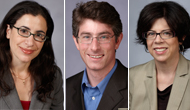 UNLV Boyd School of Law professors Fatma Marouf, Michael Kagan, and Elizabeth MacDowell have been named Bellow Scholars for 2013 by the Association of American Law Schools (AALS) in honor of empirical research projects that promise to improve access to justice for underserved communities.
The awards were announced at the AALS annual conference in New Orleans, which took place Jan. 4-7.
Professors Marouf and Kagan were honored for a joint study they are conducting with UNLV Political Science Professor Rebecca Gill on gaps in the way the federal appellate courts adjudicate immigration appeals. They are focusing on gaps that can put immigrants in danger of deportation when they have valid appeals still being considered in court. Their ultimate goal is to better protect immigrants with valid legal claims – especially those in danger of persecution and torture – from errant deportations.
Kagan and Marouf direct the immigration clinic at Boyd. Marouf has litigated many immigration cases in the federal courts of appeal as a private attorney. Her recent research has focused on the application of international law in U.S. courts and the impact of U.S. immigration policy on ethnic and race relations.
Kagan spent a decade in the Middle East developing legal aid programs for refugees, and has published many articles about international refugee law and immigration adjudication. His work in the legal aid movement was recently profiled in a book titled Social Entrepreneurship in the Age of Atrocities: Changing Our World.
MacDowell and UNLV Criminal Justice Professor Emily Troshynski are studying courthouse self-help clinics assisting self-represented litigants with civil domestic violence restraining orders in Southern California and Nevada to evaluate their role in providing access to justice to victims.
"The project seeks to provide concrete feedback to participating organizations on existing clinic services, to assess the role of domestic violence self-help clinics in providing meaningful access to justice for marginalized populations in specific communities, and to generate suggestions for addressing problems and directions for future research," said Professor MacDowell.
MacDowell specialized in domestic violence and family law cases in private practice and has written extensively about domestic violence policy, as well as the impact of race and gender on legal practice and education. She co-directs the Family Justice Clinic at Boyd.
The Bellow award is in memory of Gary Bellow, a former Harvard law professor who devoted his life to establishing legal services for the poor. His most tangible legacy is Harvard's community-based Hale and Dorr Legal Services Center, which for more than 20 years has served thousands of clients annually while providing a high quality clinical experience to hundreds of law students.