Boyd Alumnus Launches Legal Marketing Blog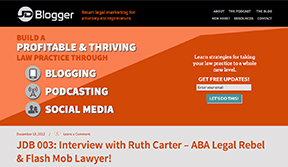 Boyd alumnus John Skiba '03 has launched a new blog called JDBlogger. The blog focuses on legal marketing through blogging, podcasting, and the use of social media.
To view the site, click here.
JDBlogger is geared specifically toward small and solo practices, with the aim of showing entrepreneurs how to market their law practice without breaking the bank.
"Blogging, podcasting, and social media are here to stay. They will revolutionize the way you market your practice – even the way you think of your law practice," writes Skiba on his blog.
Skiba today is a solo lawyer at the Skiba Law Group in Phoenix, Ariz. This is the second time he has started his own practice. The first time was just 18 months after graduating from the Boyd School of Law. His then practice grew from a solo operation to having an associate, a law clerk, and staff members. After three years, he joined a Phoenix real estate firm. Three years after that, he started Skiba Law Group, where he works today, in addition to authoring bankruptcy and consumer rights blogs and producing a weekly podcast.
Skiba earned his undergraduate degree at Brigham Young University.
Since 2009, Skiba has authored hundreds of articles on different blogs that helped take two of his blogs to the top five in local Google search results – both in the competitive bankruptcy law area.