Boyd First-Time Takers Surpass Overall Nevada Rate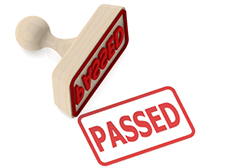 Students from the William S. Boyd School of Law who took the State Bar Exam this past July had a 76 percent pass rate.
Ninety-four of 124 students who took the exam passed the July 2012 testing. This figure includes both first-time test takers as well as those who were taking the test again.
First-time takers from Boyd had a 79 percent pass rate (89 out of 113) while repeat takers had a 45 percent success rate (5 out of 11).
"Our first time pass rate, at 79%, is our third highest pass rate, falling behind July 2011 (87%) and July 2006 (80%)," said Jennifer Carr, Director of the Academic Success Program, in a release.
In comparison, the overall pass rate for Nevada attorneys and students was 69 percent, which consisted of a 77 percent pass rate for first-time takers and a 40 percent pass rate for repeating takers.
In comparison to the previous test, which was proctored in February, the Boyd pass rate increased from 67 percent and the overall rate increased from 63 percent.
Carr did say that although the numbers are strong, there still can be more done to raise it.
"In 2012, we had 16 more graduates sitting for the Nevada bar than we did in 2011," she said. "That increase meant we were unable to meet individually with as many students as likely needed meetings."