Alumni, Adjunct Professor and Active Student Find Success in Nevada Primaries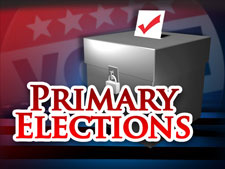 Seven alumni, a part-time student and an adjunct professor from the William S. Boyd School of Law advanced in the Nevada Primary Elections, which completed on Tuesday, June 12.
John Oceguera '03 won the Democratic primary for the U.S. House of Representatives District 3. He will face incumbent Rep. Joe Heck in the general election.
Adjunct Professor Aaron Ford took first in the Democratic Party's primary in State Senate District 11, taking 68 percent of the vote.
Lucy Flores '10, the incumbent in State Assembly District 28, won 72 percent of the vote to win the Democratic primary. There were no Republican candidates running, so Flores will need one vote to retain her position in the general election.
Additionally, current Boyd part-time student and incumbent assemblyman Elliot Anderson, D - District 15, won his primary with a state-high 84 percent of the vote.
Other Boyd incumbents to win their primaries were: Jason Frierson '01, D – Assembly District 8; William C. Horne '01, D – Assembly District 34; and James Ohrenschall '09, D – Assembly District 12.
Cynthia Dustin Cruz '03 finished second in the race for Justice of the Peace, Las Vegas Township Department 5, with 37 percent of the vote. She will advance to run in the general election against first-place finisher William "Bill" Jansen.
Steve Parke '10 also ran in the primaries. He was defeated in the Democratic primary for State Assembly District 21 to Andrew Elsen.
In addition, Brandi Lehman Jensen, '01, made it through her primary for justice of the peace in Fernley. She will run in the general election against the incumbent, Robert Bennett.
The general elections will be held on Tuesday, Nov. 6.