Appellate Clinic Wins Employment Case in the Ninth Circuit
Last week the Thomas & Mack Appellate Clinic at the UNLV Boyd School of Law won an employment discrimination appeal in the United States Court of Appeals for the Ninth Circuit on behalf of its client Ann Alioto, whose sexual harassment lawsuit had been improperly dismissed by the district court. As a result, Ms. Alioto will have a chance to prove at trial that she was unlawfully fired in retaliation for her complaining about sexual harassment. The case was briefed by two third-year students in the Appellate Clinic – Iva Todorova and Cristen Thayer, under the supervision of Associate Professor Anne Traum and Visiting Professor Angela Morrison. Ms. Thayer argued the case before a three-judge panel in April in San Francisco.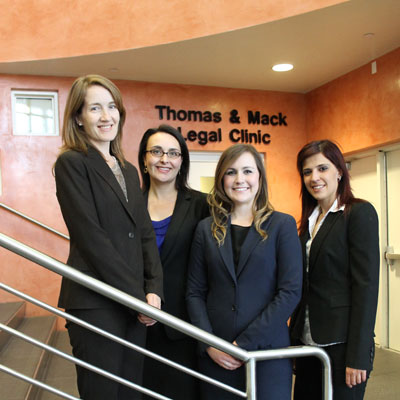 The Appellate Clinic Team: from left, Professor Anne Traum, Visiting Professor Angela Morrison, and third-year law students Cristen Thayer and Iva Todorova.
Ms. Alioto worked as a collector at Associated Creditors Exchange, Inc., a collection agency that services Fortune 500 companies. She had earlier complained to the company about sexual harassment. On the day Ms. Alioto was fired, as she was walking to her desk, a male coworker allegedly blocked her path, grabbed his crotch and said, "Suck on this." Upset, Alioto immediately complained to her supervisor. Two hours later she was fired, on the stated grounds of poor performance. She sued for retaliation under Title VII, the federal statute that protects workers from unlawful discrimination and prohibits employers from firing workers who complain about harassment. A federal district court dismissed her claim, crediting the employer's reason for termination. The Ninth Circuit reversed, holding that there were sufficient disputed facts surrounding Alioto's termination that a jury should determine at trial whether her firing was retaliatory.
The Appellate Clinic is a year-long clinic, founded and directed by Professor Anne Traum, in which third-year law students handle real appeals as student lawyers, briefing and arguing cases in the federal Ninth Circuit and Nevada Supreme Court. With a focus on writing and in-depth issue development, students learn to expose and explicate legal errors through compelling advocacy. Since its founding in 2009, the clinic has successfully litigated for clients in immigration, criminal, family and employment appeals.