Boyd Student Colin Seale Wins National Award
William S. Boyd School of Law student Colin Seale has won the National Black Law Student Association's (NBLSA) Most Outstanding Student Award.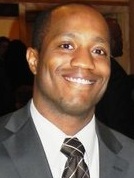 "This award recognizes a student who excels academically at a high level while positively impacting their chapter, law school, and community," Seale said of the award.
The NBLSA gives this award based on grades, a personal statement, and involvement in the school and community.
"I feel greatly honored because I know how competitive this process was and I'm fortunate that as a night student, NBLSA recognizes the tremendous sacrifices I make to help to further my success in law school along with my community involvement," he said.
Seale is a 3L part-time student at the law school. He moved to Las Vegas in 2007 from Brooklyn, N.Y. after he received a Master's degree in Public Administration from the Maxwell School of Citizenship and Public Affairs at Syracuse University.
The NBLSA is the nation's largest student-run organization, representing nearly 6,000 law students from more than 200 chapters and affiliates throughout the United States and six other countries.
The award will be given at the organization's annual convention March 7-10 in Washington, D.C.