Dean John Valery White Named to Power 100 List of Black Attorneys
On Being a Black Lawyer (OBABL) recently selected the 100 most influential black attorneys in the United States. UNLV William S. Boyd School of Law Dean John Valery White has been named to the list.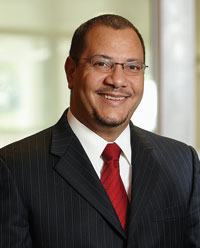 OBABL will publish "The Power 100 Special Edition" on February 15 in honor of Black History Month. The publication will be available online and will feature profiles of the nation's most influential black attorneys working in government, academics, and both the public and private sectors.
Dean White came to the Boyd School of Law after being the J. Dawson Gasquet Memorial Professor of Law at Louisiana State University Paul M. Herbert Law Center. He became the second dean at the Boyd School of Law and has overseen its growth into a nationally esteemed law school.
Dean White received his J.D. from Yale Law School in 1991. While there, he was a Notes and Topics Editor for the Yale Law Journal.
OBABL's selection committee read trade publications, blogs, and critical reviews to create the list. According to the American Bar Association, less than 5 percent of U.S. attorneys are African American. OBABL seeks to help advance diversity in the legal profession. On Being a Black Lawyer has been recognized by the American Bar Association, National Black Law Students Association, and National Association of Black Journalists.
Read The Power 100 Special Edition at http://www.obabl.com/special-editions.
Honorees will be toasted at a cocktail reception at The Ritz-Carlton Hotel in Washington, DC on Feb. 29, 2012 from 6 p.m. to 8 p.m. Michelle Miller, CBS News correspondent, will serve as Mistress of Ceremony.