Students Gain Courtroom Experience Through Mock Trial Competition
Four UNLV William S. Boyd School of Law students competed in their first mock trial competition over the winter break.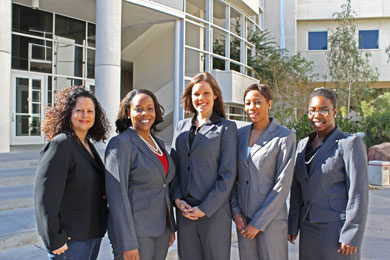 From left, Professor Rachel Anderson with Brittnie Watkins, Kiera Sears, Britannica Collins and Sonya Miller in front of the William S. Boyd School of Law.
Brittnie Watkins, Britannica Collins, Sonya Miller and Kiera Sears attended the Western Region Black Law Students Association's (WRBLSA) convention in Seattle, where they competed in the Thurgood Marshall Mock Trial Competition.
"We spent a lot of hours preparing over break – a lot of three- and four-hour days. Before that, we were meeting about once a week," Watkins said. "We were actually getting up, practicing our opening statements, our direct examinations and I guess learning the role in a more practical way."
"It was our first time going to a competition, so when we got there we did our first trial and then we'd learn some more," Miller said. "And then our second trial, we learned some more. And then one time we did three trials back-to-back, and the trials are about three hours each."
Despite their inexperience, Boyd School of Law professor Rachel Anderson, the team's faculty adviser, said that in the team's first trial, they defeated the team from UCLA, who took third overall.
"The team did all their own internal reviews and note-taking and re-adjustments of their strategies along the way," Anderson said.
They also agreed this was good practical experience for the courtroom in the future.
"It was nerve-racking, but it was also exciting," Collins said. "You do just kind of have to go with it and if you feel you did something wrong, you have to forget about it and keep going."
The team now must prepare for Nationals, which will be March 7-11 in Washington, D.C.
"Right now we're trying to settle back into our classes and get back into the groove of school," Sears said, adding that time management will be a big deal next time, as it was this time.
"It's a good lesson for what it's going to be like in the professional world."