Associate Dean Christine Smith Receives 2012 Father Robert Drinan Award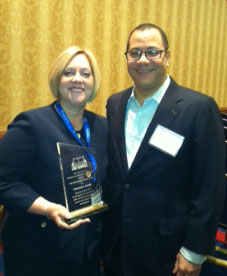 2012 Father Robert Drinan Award recipient Associate Dean Christine Smith is pictured with Dean John Valery White at the annual AALS meeting in Washington, D.C.
The Pro Bono and Public Service Opportunities Section of the American Association of Law Schools (AALS) has selected Boyd School of Law Associate Dean Christine Smith as the recipient of the 2012 Father Robert Drinan Award. The award honors faculty and administrators for their extraordinary contributions on behalf of pro bono and public interest programs.
Dean Smith created the Community Service Program and has overseen it since the law school's inception in 1998. Through the program, which offers students the chance to assist groups of people in a general way without giving specific legal advice, Boyd School of Law students have taught free legal education classes to more than 40,000 Nevada residents.
In a partnership with the Legal Aid Center of Southern Nevada, Dean Smith also created the Partners in Pro Bono program, which she oversees. The program pairs law students with experienced practitioners to work on one pro bono case over the course of a school year. Through this program, students gain practical legal skills and receive valuable mentoring while assisting low-income clients.
The award was presented to Dean Smith on Jan. 6, 2012 at the annual AALS meeting in Washington, D.C.