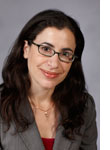 Fatma Marouf
Co-Director of Immigration Clinic
Associate Professor of Law
Education:
B.A., Phi Beta Kappa, magna cum laude, Yale University
J.D., cum laude, Harvard Law School
Publications
Book Contributions
Dorothy Stoneman & Fatma Marouf, YouthBuild, in Making Connections, Youth Program Strategies for a Generation of Change (Marion Pines ed., 1999).
Articles
Fatma E. Marouf, The Role of Foreign Authority in U.S. Asylum Adjudication, NYU J. Int'l L. & Pol. (forthcoming)
Fatma E. Marouf, Regrouping America: Immigration Policies and the Reduction of Prejudice, 15 Harv. Lat. L. Rev. 501 (2012).
Fatma E. Marouf, Implicit Bias and Immigration Courts, 45 New England L. Rev. 417 (2011).
Fatma E. Marouf, The Rising Bar for Persecution in Asylum Cases Involving Sexual and Reproductive Harm, 22 Colum. J. Gender & L. 81 (2011).
Fatma E. Marouf, Holding the World Bank Accountable for the Leakage of Funds from Africa's Health Sector, 12 Health & Hum. Rts. 95 (2010).
Fatma E. Marouf, The Emerging Importance of "Social Visibility" in Defining a Particular Social Group and Its Potential Impact on Asylum Claims Related to Sexual Orientation and Gender,
27 Yale L. & Pol'y Rev. 47 (2008).
Commentaries, Essays, and Reviews
Fatma E. Marouf, The Hunt for Noncitizen Voters, 65 Stan. L. Rev. Online 66 (2012).
Fatma E. Marouf & Deborah Anker, Socio-Economic Rights and Refugee Status: Deepening the Dialogue Between Human Rights and Refugee Law, 103 Am. J. Int'l L. 784 (2009) (reviewing Michelle Foster, International Refugee Law and Socio-Economic Rights: Refuge from Deprivation (2007)).
Fatma Marouf, Recent Developments, Wrongful Death: Oklahoma Supreme Court Replaces Viability Standard with "Live Birth" Standard, 28 J. L. Med. & Ethics 88 (2000).
Fatma Marouf, Book Note, 13 Harv. Hum. Rts. J. 321 (2000) (reviewing Ervand Abrahamian, Tortured Confessions (1999)).
Fatma Marouf on the Scholarly Commons

Curriculum Vitae
Bio
Areas of Expertise
Immigration Law
International Human Rights Law
Refugee Law