13th Annual Public Interest Law Association Auction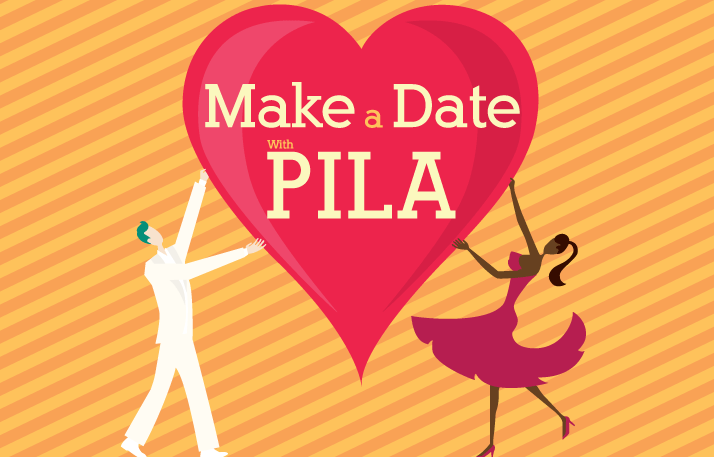 The 13th Annual Public Interest Law Association (PILA) Fundraiser Auction will be held on Friday, February 10, 2012 from 5:30 to 7:30 p.m. at the Fremont Hotel & Casino. The purpose of the auction is to raise funding for summer internship grants for Boyd students working in the public sector. For more about PILA's Summer Public Interest Grant Program, click here. If you are interested in donating, click here.
| | |
| --- | --- |
| | To register for this event, please RSVP here. |
For the past two years, PILA has honored a member of the legal community for their commitment to public interest. The newly named Silver Staircase Honor recognizes members of our community who help create access to justice for those with unmet legal needs.

This year, PILA has named Barbara Buckley as the 2012 Silver Staircase Honoree. As the Executive Director of the Legal Aid Center of Southern Nevada, Barbara was instrumental in establishing the new Civil Law Self-Help Center, located at the Regional Justice Center. In its first year of existence, over 31,000 people received help at the SHC. Additionally, Barbara has been tirelessly raising the funds necessary to expand LACSN in both location and personnel, and broke ground on the expansion on October 10, 2011.
This year, the LACSN-sponsored Ask-A-Lawyer programs also expanded from Family Law, Small Business, and Homeless Assistance Project to include Landlord/Tenant, Foreclosure Mediation, and Bankruptcy. These programs allow individuals to get 15-30 minutes of free legal advice on their specific case, promoting the ability of low-income individuals to access justice. Additionally, Barbara has worked to pass legislation for children in foster care and demonstrated continuous support of Boyd and PILA. Together with her staff, Barbara is consistently working to improve the ability of low-income individuals to get the legal help they need. She is a worthy recipient of this award.
Sponsors
Platinum Sponsors:
The Howard Hughes Corporation
Ken Templeton II, Financial Advisor
Gold Sponsors:
Foster Realty
In Memory of Professor & Madam Eyo Ita
Silver Sponsors:
Kamer Zucker Abbott Attorneys at Law
The Mullin Group, Prudential Americana Group Realtors

Bronze Sponsors:
Becky Pintar
Sergei's Dance Studio
---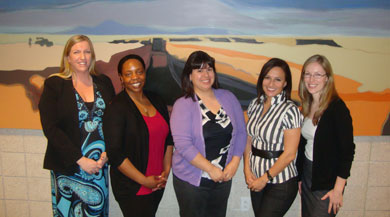 From left, PILA members Laura Jennings, Brittnie Watkins, Jessica Perlick, Marisa Rodriguez-Shapoval, and Shannon Phenix.
PILA is hoping for 200-300 people to show up to the 2012 auction and their monetary goal is now set at $40,000. They hope to be able to use that money to give out eight $5,000 grants.
Shannon Phenix, PILA president, said the event has had great success in the past.
"Two years ago there was a high turnout and a lot of money was raised," she said. "Last year, there was a bit of a lull, but it was still a really strong event."
The $40,000 goal would be a substantial increase from the $14,000 they raised last year, but Marisa Rodriguez-Shapoval, PILA VP in charge of the auction, said that there are a lot of auction items available.
"We'll have a silent auction, a live auction and a student only auction that starts a few days before," she said. "We have items that range from a $20 gift certificate at Starbucks to an $800 getaway at the MGM."
---
Auction Items
Yin Yang Yoga Private Yoga and Stress Relaxation Therapy Session (value $150)
Advance Chiropractic Specialists New Patient Exam (value $750)
Qivana Qore System Kit (value $160)
Forrey Films - $500 discount on any video project
Mandalay Bay Getaway (value $600)
The Signature at MGM Grand Getaway (value $800)
Las Vegas Bootcamp Session (value $300)
Starbucks Gift Cards
Signed Copy of Senator Reid's Book
Mayor Carolyn Goodman Meeting and Bobblehead
Sergei's Dance Studio Ballroom Dance Lessons (value $455)
Papillon Grand Canyon Helicopters Rides (value $398)
Callaway Golf Center
Arrow Head Bed & Breakfast Getaway Package
$100 Lavo Gift Certificate
WestLaw New Attorney Kit
Via Brazil Stakehouse Gift Cards
Private Wine Tasting for 20 in the Private Room in our Boca Park/Summerlin store (value $500)
Total Wine & More Gift Certificate (value $100)
Keurig Brewer B-40 (value $175)
The Pasta Shop in Henderson (value $50)
RM Seafood Restaurant Gift Certificate (value $500)
Texas Gift Basket
Las Vegas Wranglers - 4 Mardi Gras Tickets (value $72)
Tree by Jeff Lawn & Landscape (value $500)

Two 30 minute swimming lesson (value $430)
Two pairs of running shoes by Performance Footwear (value $100 each)
Signed copy of "The Litigators" by Grisham
2 Tickets to the Phantom of the Opera at the Venetian (value $298)
Two tickets for the Bingham Gallery in Utah (value $300)
Casey Jennings - 3 ft standee
Kerri Walsh - 3 ft standee
"Recycled Percussion Show" at the Tropicana (Value $366)
Bar + Bistro Gift Certificate (value $100)
Photo Session by hilary walsh photography (value $175)
Painting by Elena Fernandez
Leather Atache computer bag donated by "Horizon Print Solution"
Two VIP Indoor Skydiving tickets & DVD (value $195)
Two VIP tickets to Big League Weekend Cubs/Rangerss - Donation by Sean Claggett Esq. (value $260)
Rayso Inc. Carpet Cleaning (value $100)
Dinner for two (2) at Bacio by Carla Pellegrino (value $150)
TPC Summerlin four some of golf (value $936)
Show by SPI Entertainment
o Name that Tune Live
o Human Nature
o The Australian Bee Gees Show
Donation by Luxury Suites International
o Two-Night Stay (all inclusive) at the Signature
UFC Merchandise
Eye Candy Salon – Two Full Service Haircuts (value $50)
Deluxe Facial donated by Image Words/ruthfurman.com
One hour Public Relations/Social Media consult by phone by Image Words/ruthfurman.com
Professional Portrait or Profile Session by Eric Ita Photography (value $200)
The Rule of Law by Lord Thomas Bingham
---
The Public Interest Law Association (PILA) at the William S. Boyd School of Law is a non-profit, student-run organization that works closely with students, faculty, and members of the community to raise awareness about public interest work and opportunities available to law students. For more information about PILA, go to law.unlv.edu/current-students/student-organization/pila/home.html.
//php print $links; ?>