Gaming Law Conference: Regulating Land-Based Casinos
Location:
Thomas and Mack Moot Court Facility

September 3-5, 2014
UNLV William S. Boyd School of Law
Schedule: PDF
Speaker Bios: PDF
The high-tech possibilities for online gaming grab headlines, but land-based casinos remain a vibrant and growing sector of the gaming industry. As the number of jurisdictions that legalize gambling grows nationally and internationally, it is important to examine successful models and practices for developing and regulating land-based casinos. Las Vegas, Nevada provides the perfect setting for exploring these issues and ready access to gaming experts in both the private and public sectors.
From September 3 to September 5, 2014, the William S. Boyd School of Law at UNLV will host a conference and educational experience on regulating land-based casinos. Sessions during this three-day conference will be led by gaming leaders in regulation, compliance, operations, and enforcement. The audience will include lawyers, policy-makers, regulators, academics, gaming operators, gaming equipment suppliers, and others interested in how the industry will develop nationally and internationally. A detailed schedule of speakers and fees will be available soon.
Session topics will include The Debate Over Legal Gambling; Gambling Policy and Goals; Policy Implementation; Structuring a Casino Industry; Economic Impacts of Regulation; Regulatory Agency Organization; Politics of Gaming Regulation; Addressing Problem Gambling; Controlling Electronic / Computer Games and Equipment; Auditing and Accounting; Taxes; Advantage Play, Crimes and Enforcement; Licensing of Industry Participants; and Exclusions.
Panel discussions include compliance issues, the impact of technology on gaming, and enforcement challenges.
Session experts include Anthony Cabot, Doug Walker, Kevin Mullaly, Stephen Martino, Eugene Christainsen, Richard Schuetz, Toni Cowan, Bob Stocker, Frank Catania, Gary Ehrlich, Peter Kulich, Don Hannum, Darren Heyman, Rick Lopes, Brian Callaghan, Keith Miller, and others.
We look forward to seeing you in Las Vegas!
Registration
Early bird registration: $850.00 (payment must be received by August 6, 2014)
Regular registration: $900.00
Click here to register.
Questions? Contact Ngai Pindell at ngai.pindell@unlv.edu or (702) 895-2417.
Flyer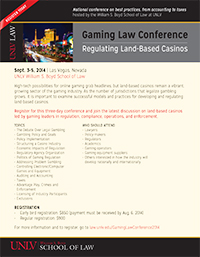 //php print $links; ?>